Announcement:

Liberty Aviation Museum & PX Gift Shop Fall Hours:

10 AM - 5 PM
7 Days


Tin Goose Diner Fall Hours

Temporarily Closed
until late november

Check back soon for updates



Special Announcement and for immediate release:

October 11, 2021

Tin Goose Diner to close temporarily for maintenance and upgrades

2021 has been a difficult year for the restaurant and tourism industry, and the Tin Goose Diner has faced numerous trying challenges. Now that the summer travel season is behind us, we must take the time to perform upgrades to our equipment and address other issues as we look forward to the 2022 season.

Maintenance that has been deferred will be performed, key pieces of equipment will be upgraded, and a deep cleaning completed.

The Liberty Aviation Museum & Liberty Aviation Museum PX Gift Shop hours will remain 10am-5pm, 7 days per week at this time.

Our re-opening date will be announced as the date comes into focus. We appreciate your past patronage and look forward to providing a truly superior dining experience to you very soon.

Sincerely,

Your friends at The Tin Goose Diner


Thank you for visiting the Tin Goose Diner. This diner is authentic, built by the Jerry O'Mahony Diner Company of Elizabeth, New Jersey, in the 1950's. It was originally operated as the Sunrise Diner in Jim Thorpe, Pennsylvania.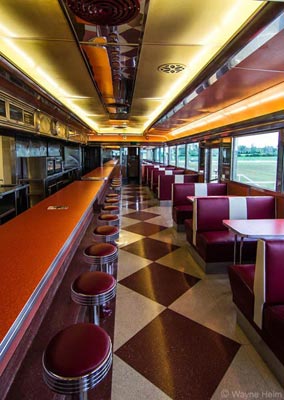 We encourage you to view, and experience artifacts, vehicles, and aircraft from the Golden Age of Aviation, and beyond.
All proceeds from this diner help fund the operation of the Liberty Aviation Museum.
Visit us at:
+41° 30' 31.86"N
-82° 51' 52.86"W
Video courtesy of Hemlock Films